Why do we have a CE regulation?
Mainly, it's here to help you chose between different type of protective rider equipment. Its main purpose is for riders to be able to get the right gear for their specific use case. Whether you are riding around town, on back roads or on the freeway.
Thanks to EN17092, riders can have a better overall view of the real performance levels of the gear they are wearing. Each garment need to have a CE marking, i.e a label that tells whether it's been certified for level C, B, A, AA or AAA.
This regulation is now compulsory since April 21st, 2023. And it's now no longer legal to sell rider protective equipment in Europe without a CE marking.
EN17092 is here to test pants and jackets exclusively. As boots, gloves and helmets each have their own specific regulation.

You might think that leather suits are the strongest thing out there, but it turns out that technical textiles have come a long way and are now able to achieve the maximum level attainable in accordance with EN17092.
So this new regulation sort of reshuffles the card of what is achievable.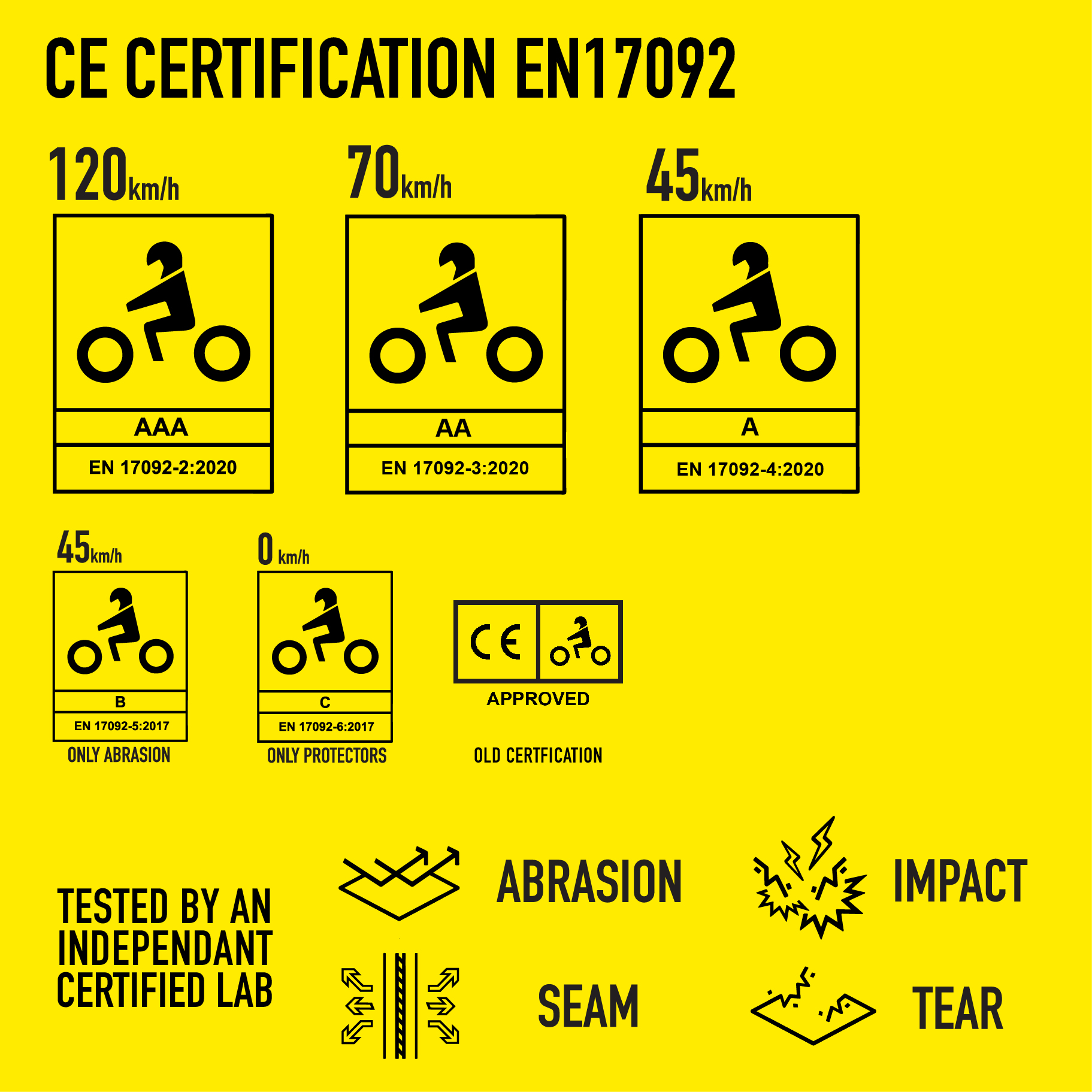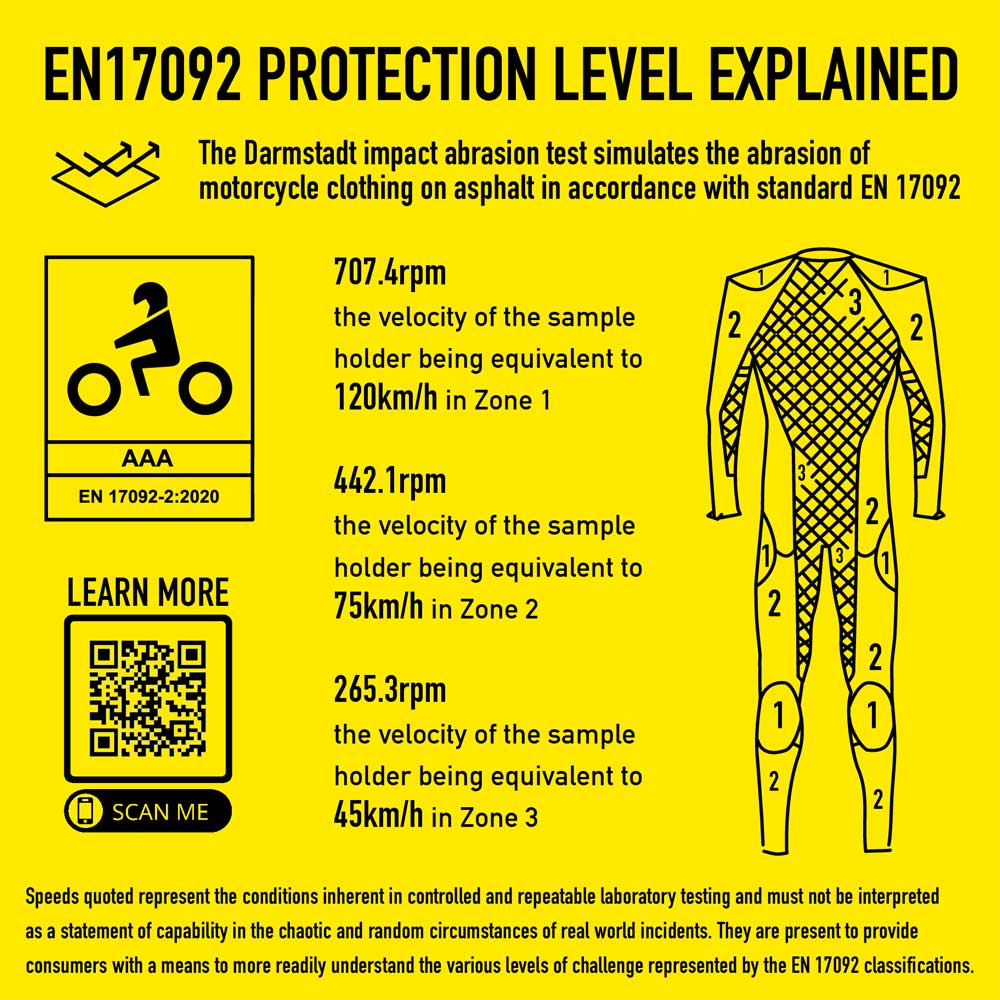 Who carries which tests?
Resistance tests are all carried out by independnant laboratories approved by the European Comission. Motorcycle gear manufacturers go to them in order to obtain a CE marking on the products that they want to sell within the EU.
As far as the tests themselves, we can categorise them in the following main types:
Impact abrasion
Tear strength
Brust strength
Seam strength
Fit and ergonomics
Chemical innocuousness
Of course, one must obtain positive results to all tests in order to obtain a CE marking.
Gear manufacturer have to chose a certain level (C, B, A, AA, AAA) before the tests are carried out.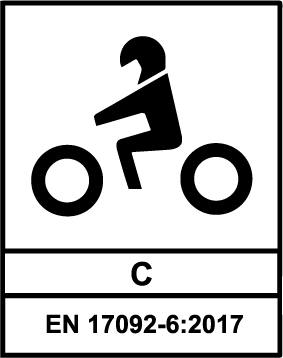 Level C
Level C is reserved for garments that offer impact protection but no abrasion resistance. There are therefore high risks of the fabric tearing on impact. And we do not recommend using these garments for road use. They are mostly used in Motocross or under other abrasion resistant garments.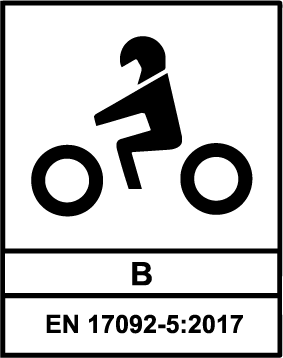 Level B
Level B is reserved for garments that offer abrasion resistance but no impact protection. They do not include impact protectors in the impact areas (zone 1). And as far as the abrasion is concerned, it is tested against level A, with a 45kph theoretical abrasion speed. We do not recommend these garments for a normal road use, unless a level C garment is worn underneath.

Level A
Level A garments provide protection against impacts and abrasion. However, the abrasion is tested against a speed of 45kph, which is the typical urban speed. We therefore do not recommend using those garments outside the city, where higher speeds are encountered, as they will simply not provide enough protection at higher speeds.

Level AA
The sweet spot. Level AA offers a decent amount of resistance against abrasion, at 70kph, and impacts. We're starting to cover a normal road use, exclusing high speed sections such as freeways. At Bowtex, we decided that we won't certify garments under level AA. As riders, we ride in many different situations, and are often going at higher speeds compared to cars.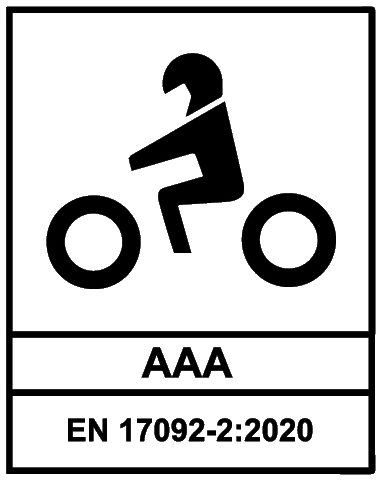 Level AAA
Top level. It's normally reserved for heavy riding gear. Here, the abrasion speed is raised to 120kph. We therefore cover all road used, including freeway riding and higher speeds. Level AAA also offers higher protection in zone 1 as it includes not only the hips and knees, but also the read.
The different risk zones.
EN17092 distinguishes three separate zones of the body.
These are established according to their respective risk of impact in case of a crash.
Zone 1 is the most likely to undergo abrasion and impact and is therefore the zone that requires the most resistance from a garment. On the upper body, it consists of the shoulder and elbows. And the hips and knees for the legs.
Exception is made in level AAA, as zone 1 now extends to the rear of the body (see chart)
Zone 2 has a moderate risk of abrasion and impact. On the upper body, it's the exterior of the arms and the back. And on the legs, it's the hips and thighs.
Zone 3 is considered the lowest risk of abrasion and impact. On the upper body, it's the front and the inside of the arms. And the front and inside of the legs on the lower body.
Attention! Low risk does not mean low risk. In zone 3, we decided to use a strong polyamide fabric that in itself could be certified for level A.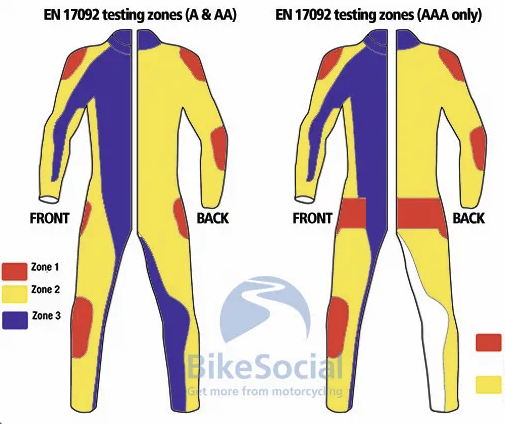 DECLARATION OF CONFORMITY
Anyone can consult a manufacture's declarations of conformity. These are compulsory to have and they are here to certify that a corresponding CE certificate exists. CE certificates themselves are not often shares as they contain internal information about a product.